Anthony Bloor – Tales of Daphne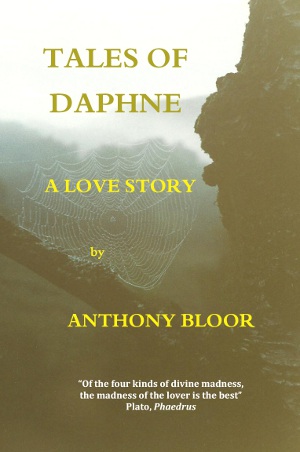 Product Details
EAN/ISBN13: 978 0 9563544 3 3
Format: B-Format Paperback
Extent: 544pp
RRP (UK): £12.99
Publication Date: 2022-09-22
Classification: Contemporary Fiction
Readership: Adult General
Language: English
Rights: World
Size: 198 x 129 x 38.04mm
Weight: 585gm
BIC (version 2): FA
BISAC (2010): FIC 000000
Tales of Daphne
A Greek myth, retold. Tales of Daphne, lost and found in the margins of Thatcher's Britain, where dance fever, rave culture, and occult philosophies are spreading like wildfire…
Hal's love life is on pause again. He goes on walking holidays. He falls in love. And with explorers it's so frustrating. They all go off. Like Laura – she's going to India for six months and they've only just met. But she's bound to return to Fotheringham. Her house is here, not far from Hal's flat.
Meanwhile, Hal must pursue his mission – he's designing a computer program that'll write stories on demand. Then there's Wayne and Sharon, who've moved into the flat upstairs. They've invited Hal to join the crowd who'll be dancing all night to the sound of house music.
But there's something odd about Wayne. It's as if there's a competition between them. When Hal dances more often, Wayne does too – and Wayne must dance that extra bit. After Laura's return to Fotheringham, Hal decides to slow down. Yet Wayne doesn't slow down. Wayne can't stop dancing, and he says he's controlled by Saturn. Then, as Hal and Laura renew their friendship, Wayne unleashes his dark forces…
An epic tale of chance encounters, quests for enlightenment, the call of Pan and the arrows of Eros. Walking and dancing in the Garden of Eden. Followed by a quick exit. Set in England and Wales in the early 90s, featuring a host of walkers and dancers, and a house of oddballs and creatives.
Preview of the Contents
Pastorale
A Tale of Three Daphnes, The House of Stories, Hayley, Figures in a Landscape

Stone Circle Raga
The Spiral, Faerie, The Bluestones, Gwaun, The Arrangement, A Lover's Discourse, The Departure

Deep House
Stars and Jugglers, The Harmony of the Spheres, The House of Perpetual Motion, Heaven, Wayne's World

Bowel Movement in E-Flat Major
Limestone Pavements, The Return, The Dance of the Neurons, Black Holes, The Waterfall, The Spiral, The Party, The Contest, Satanic Verses

Coda
The Writing on the Wall, The Virus, A Tale of Llugh and Krishna
Downloads
To download a text-only information sheet on Tales of Daphne, click here (

opens in new window).
More downloads are available from the Trade page.
On Daphne
"Storytelling with great skill" Wayne Burrows
"A compelling tale of love and obsession" Angelina Anton
On the Author's Previous Work
"Unique fiction" Billy Clark
"Most entertaining" Alan Mahar
"Thoroughly enjoyable" Peter Guttridge
"High-quality fiction" Hazel Cushion
Other Novels by Anthony Bloor
The Messenger
Click here to see the product details.
To read an author interview, click here.
Larry's Lessons
Click here to see the product details.
To read an author interview, click here.
The Big Wheel
Click here to see the product details.
To read an author interview, click here.
Online Purchase – Tales of Daphne
Online price: £11.37 (12½% discount)
(Excludes delivery charge)
To place an order online, please use a PayPal button below, making sure you select the correct postal zone for your delivery. Clicking or tapping a PayPal button transfers you to a PayPal screen and the transaction details are transmitted securely and privately via PayPal, not via this web page. Details of delivery charges and postal zones are given on the How to Buy page.

Please note that Terms and Conditions apply to online sales.
Delivery to the UK


Delivery to Europe


Delivery to Rest of World


Check the How to Buy page for details of postal zones.