Anthony Bloor – The Messenger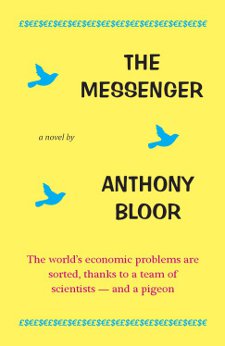 Product Details
EAN/ISBN13: 978 0 9563544 2 6
Format: B-Format Paperback
Extent: 416pp
RRP (UK): £9.99
Published: 2014-11-10
Availability: In Print
Classification: Contemporary Fiction
Readership: Adult General
Language: English
Rights: World
Size: 198 x 129 x 22.13mm
Weight: 448gm
BIC (version 2): FA
BISAC (2010): FIC 000000
The Messenger
On a remote island in the Atlantic, scientists are trying to reconstruct the brain of Karl Marx. And somewhere in Dorset, George returns from a shopping trip to find that her house has been taken over by strangers who are engaged in a violent feud…
Living alone in an isolated part of the English countryside, George sits in a room with a view, dreaming of a life cut short, and wishes she had a gardener. Her days follow a pattern – until a racing pigeon turns up at her cottage, with a locket strapped to its leg, and her routine slides rapidly into disarray.
Meanwhile, economies are facing a global crisis. Profits are falling, governments are desperate for explanations, and are willing to fund any project that might provide one. Such as this: on a remote island in the Atlantic, scientists are using technology to simulate the brain of Karl Marx. Their plan is to build a 'thinking' computer – one that will not only analyse economic data, but also produce a modern version of Capital, Marx's best known work.
But why have they turned up at George's cottage, in pursuit of a pigeon? What's inside that locket? And why are they fighting over it? While George wants answers to her questions, her visitors are on a mission, and a war of wits ensues as the mystery is unravelled. Meanwhile, on that remote island, the Brain of Marx Project is facing a new problem…
Two worlds collide in this quixotic tale of romance, science and adventure, set in the UK, USA and the Atlantic, with a cast that includes countrified eccentrics, scientists with obsessions, street protesters, Goths, pigeon fanciers, a naked rambler and a VIP (Very Important Pigeon).
Downloads
To download a press release on The Messenger, click here (

opens in new window).
More downloads are available from the Trade page.
On the Author's Previous Work
"Unique fiction" Billy Clark
"Most entertaining" Alan Mahar
"Thoroughly enjoyable" Peter Guttridge
"High-quality fiction" Hazel Cushion
Read an Extract
You can read extracts from our books via Nielsen's "biblets". These are hosted by Book2Look (B2L) and licensed to Nielsen Book Services for exclusive distribution in the UK. To read a sample of The Messenger, click on this B2L link (opens the biblet in a new window): "The Messenger : Anthony Bloor - Book2look". (Please note however that biblets use advanced HTML5 features that aren't supported by older browsers; if you are using an old version of a browser, you may just see a blank page.)
Author Interview
To read Anthony Bloor on The Messenger, click here.
Other Novels by Anthony Bloor
Tales of Daphne
Click here to see the product details.
Larry's Lessons
Click here to see the product details.
To read an author interview, click here.
The Big Wheel
Click here to see the product details.
To read an author interview, click here.
Online Purchase – The Messenger
Online price: £8.74 (12½% discount)
(Excludes delivery charge)
To place an order online, please use a PayPal button below, making sure you select the correct postal zone for your delivery. Clicking or tapping a PayPal button transfers you to a PayPal screen and the transaction details are transmitted securely and privately via PayPal, not via this web page. Details of delivery charges and postal zones are given on the How to Buy page.

Please note that Terms and Conditions apply to online sales.
Delivery to the UK


Delivery to Europe


Delivery to Rest of World


Check the How to Buy page for details of postal zones.