Latest News
A 25-year writing project finally sees the light of day
The title of our last news item was "The Year of the Virus." That title has turned out to be somewhat premature. The COVID virus is still with us, and it's almost two years now since the first lockdown. In fact, the COVID saga bears a certain similarity with the Brexit saga with variants in the former case and ongoing negotiations in the latter both creating the impression of a saga without end.
Our last news item discussed COVID's impact on the book trade, three months into the first lockdown. Two years on, its impact on the creative industries continues to be mixed. On the one hand, those who earn their living from writing screenplays or live performances have seen a drop in earnings because of film projects being shelved and live performances cancelled. On the other hand, home entertainment has thrived, and some writers have utilised an enforced isolation to spend more time writing. Lockdowns have also meant that those with time to spare have turned to pastimes such as reading those books which you'd never got round to. A resurgence in reading has meant that some publishers have seen an increase in book sales while others have seen sales remain relatively stable.
Meanwhile, we are pleased to announce that another saga which appeared to have no end is indeed approaching its end, with a date set for its ending. Our most prolific author is Anthony Bloor, and he is one of those creatives who have found the time during lockdowns to complete an unfinished project, in this case a novel, the first draft of which was written a quarter of a century ago.
Tales of Daphne is an epic tale set in England and Wales in the early 90s. The narrative spans three years in the life of Harold Leeman, an inventor working in IT, who's trying to discover the essence of storytelling and translate his findings into computer code. The precise details of his work remain obscure, however, as the story is more concerned with his failed attempts to write a short story, his romantic liaisons with Hayley and subsequently Laura, initiated on his walking holidays, and his descent into a world of dance, initiated by his new neighbours, Wayne and Sharon, a New Age couple who've moved into the flat upstairs. The narrative is interspersed with musings on house music, walking and dancing, love and compassion, madness and rationality, Buddhism and the shaved head, and the wisdom of the ancients, among other things, before reaching a dramatic conclusion.

Front Cover – Tales of Daphne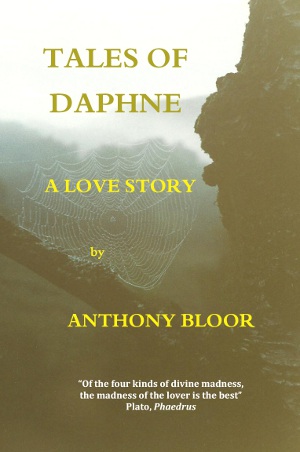 We've been hoping to interview the author for some insight into the novel and its background, but the author has so far declined our requests on the grounds that he's suffering from a post-natal depression induced by the novel's completion, which he says felt very much like giving birth to a monster, though simultaneously with a sense of relief. He has, however, given us some snippets of information.
"Tales of Daphne is semi-autobiographical," he says, "and based on actual experiences, but the novel is ultimately a fiction and should be seen as such. I've been working on it for the last 25 years, bringing it out for a fresh look, putting it away again, then bringing it out after a short or long period, the longest pause being about five years. The novel is so familiar now that I sometimes have difficulties remembering which bits represent fact and which bits represent invention. All I can say on that point is that the result may surprise the reader – what appears to be an innocent depiction of fact may turn out to be fiction, and what appears to be too bizarre to be true may turn out to be fact."
"I don't think that kind of dissection is particularly useful or even important. What's important, to me at least, is the novel's integrity as a literary work and the underlying themes. The central one I guess is the re-telling of a Greek myth, but there are several themes and I don't want to pre-empt what the reader may find. I'd rather invite the reader to discover things for themselves because I've read the novel so many times and yet each reading reveals new connections. I think this is due to the manner of the writing and the idea of being possessed by the muse – there was a story out there that needed to be told, and the writing was driven by the story and the characters, not by any idea of themes."
"Essentially though, I'd describe the novel as a love story with several dramatic twists on the way. It also features a faithful depiction of the early rave scene before the coming of the smartphone, including references to artistes such as the Higher Intelligence Agency, Richard H Kirk, and the DJ collective DiY, so there's a certain sociological stroke cultural interest there. The smartphone changed things irretrievably, so the novel is also a 'paradise lost' in that sense. Could there be a paradise regained? Maybe, but it would be a different sort of paradise because you can't relive the past; you can only write about it. In any case, I won't be around to write about it if it's going to take another quarter of a century. I've got other things I want to write, so I'll just settle for the nostalgia. Given the current state of the world, I think we all need a dose."
Tales of Daphne - A Love Story is currently going through a final proofreading stage and is scheduled for publication on September 22nd 2022. For further details, click here.
January 2022

top
More Uncertainty for the Book Trade
Our last news item was devoted to a lengthy discussion of online privacy and the implications of the EU's General Data Protection Regulation (GDPR). We introduced that item by talking about the uncertainty over Brexit, an uncertainty that continued throughout 2019. 2019 also saw the Rise of the Boris, reaching a peak in December with a general election and a Victory for Boredom but not, despite claims to the contrary, for certainty. Uncertainty has now reached a global scale with the COVID-19 pandemic taking centre stage, causing many in the UK to look back with nostalgia to those endless wrangles in parliament. It also caused a swift downturn for the Boris, who emerged from a near-death experience last month to state that the NHS had saved his life. Meanwhile, uncertainty over Brexit continues, for business at least. As we said in our last news item, uncertainty over Brexit "looks set to continue to the end of time" and the same could be said for COVID-19. If 2019 was The Year of the Boris, 2020 looks set to become The Year of the Virus. What has been the impact on publishers and the literary world?
The Impact of the Lockdown
More uncertainty, obviously, but of a deeper kind. For a start, bookshops have been forced to close as a result of the UK Government's lockdown. Many would argue that books should be classed as "essential items" but it seems likely that bookshops will remain closed while the current lockdown continues, and while some may provide a mail order service they cannot provide the usual face-to-face interaction with customers. Libraries have also been forced to close and to suspend all their public and communal activities, such as readings by invited writers and children's storytime activities. Writers' groups, reading groups and literary societies have all been forced to postpone meetings or to organise online alternatives. Literary festivals and social gatherings of all kinds have been cancelled or transferred to a virtual version.
All of these measures are having an impact on the sale of printed books and consequently on authors' royalties, as well as generally on writers' earnings. In a recent survey of its members, the Society of Authors says that 42% of the respondents expected to be worse off as a result of the pandemic, 84% did not expect to benefit from the Government's Job Retention Scheme, 85% were uncertain whether they would benefit from the Government's Self-Employed Income Support Scheme, and a significant number reported a loss of income due to cancelled events. The Society of Authors has written to the Chancellor to express its concerns, and the Authors' Licensing and Collecting Society (ALCS) has also been campaigning for improvements to the Government's support proposals. In a news item, the ALCS expresses the fear that "the Self-Employed Income Support Scheme will still leave many writers without an income for many months."
The Bookseller has published an article on the impact on small presses, and it's reasonable to assume that workers across the supply chain will have been affected by the pandemic, with social distancing measures and reduced demand forcing a range of companies and small businesses from printers to distributors and from wholesalers to bookshops to offer a limited service and to furlough staff.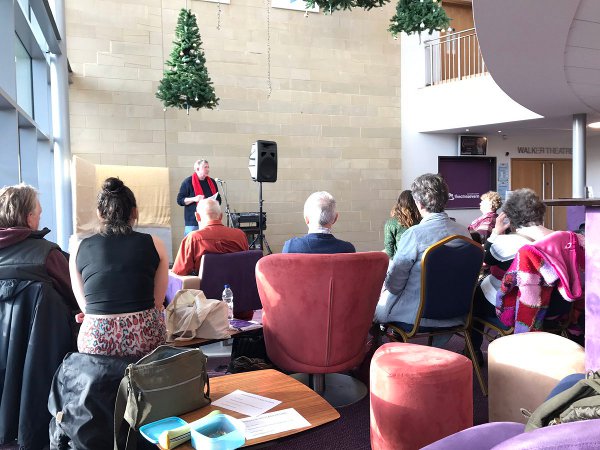 Photo: Shrewsbury Literature Festival – "Overheard" at the Theatre Severn, 26th November 2016. A reminder of a bygone age?
In terms of working practices, one might think that an enforced isolation would have little impact on authors and many creative freelancers as homeworking is generally the norm here. However, we are all affected by the inability to move freely and the ban on social gatherings. Research has highlighted how the pandemic is having a psychological impact with anxiety, stress and depression being common features.[1] In its survey of members cited above, the Society of Authors says that 75% of the respondents were concerned about the impact of the health crisis on their ability to work, "with 87% worried about its effect on their wellbeing."
On the other hand, an enforced stay-at-home has opened up creative opportunities for some with time on their hands, with writing among the activities reported on the mainstream news. Some have taken to writing with a serious intent and committed themselves to completing a novel. Could publishers be faced with a flood of COVID-inspired novels filling their intrays?
The impact on the mass media has also been significant. Soaps, feature films and reality shows have been put on hold, comedy programmes no longer have a live audience, and the current news coverage, podcasts, and TV and radio schedules offer a wall-to-wall pandemia from which it's hard to escape.
From a publisher's perspective, however, apart from the impact on print sales, the most significant consequences of COVID-19 are perhaps those concerning e-books. There's negative and positive news here. First, the bad news.
E-Books and Piracy
In March, the US-based Internet Archive announced the creation of a "National Emergency Library" as a response to the pandemic. The Internet Archive said the Emergency Library would ensure that "students will have access to assigned readings and library materials that the Internet Archive has digitized for the remainder of the US academic calendar, and that people who cannot physically access their local libraries because of closure or self-quarantine can continue to read and thrive during this time of crisis, keeping themselves and others safe… This is a response to the scores of inquiries from educators about the capacity of our lending system and the scale needed to meet classroom demands because of the closures… The library system, because of our national emergency, is coming to aid those that are forced to learn at home."
However, the Internet Archive's digitization policy is the subject of a long-standing dispute over copyright issues, with writers' organisations arguing that many of the e-books in its Open Library are the result of scanning print editions without permission from the copyright holder. Twelve months ago, the Authors Guild published an article on "a recently invented legal theory" known as Controlled Digital Lending which "allows libraries to justify the scanning (or obtaining of scans) of print books and lending those digital copies to users without obtaining authorization from the copyright owners."
The article went on to state that the Internet Archive's Open Library had started to reject notices sent by Guild members asking for unauthorized digital copies of their books to be taken down, "citing that it operates consistently with 'Controlled Digital Lending.'" The Internet Archive argues that "it is fair use for libraries to scan or obtain scans of physical books that they own and to loan those books through e-lending technologies, provided they apply certain restrictions akin to physical library loans, such as lending only one copy (either the digital copy or the physical copy) at a time and only for a defined loan period." However, the Authors Guild argues that the concept of 'Controlled Digital Lending' relies on an incorrect interpretation of the "fair use" doctrine in US copyright law to give legal cover to what amounts to outright piracy. The article also states that the Internet Archive's legal argument has been rejected by the US courts.
In the UK, the Society of Authors published a letter also twelve months ago which criticised the Internet Archive's Open Library policy and called on the Archive to stop the unlawful scanning of books available in the UK. The Authors' Licensing and Collecting Society (ALCS) has also been campaigning on this issue and has encouraged its members to sign the letter. In response to the Internet Archive's latest announcement, the ALCS said that the National Emergency Library would allow free unlimited lending of these unlawfully digitized e-books, "potentially putting authors' rights to fair remuneration for their work at risk in the process. A number of organisations have published comments criticising these actions, including the Association of American Publishers, the Authors Guild and the Society of Authors… We believe it is essential to respect copyright and that writers have the right to fair remuneration for the use of their work. Writers' incomes were already in decline, and the current crisis has had a further negative impact on the incomes of many creatives across the world."[2]
The Good News – E-Books and VAT
Putting aside the issue of piracy and copyright infringement, there has also been some good news on e-books. In the UK, printed books, magazines and newspapers have been exempt from VAT since the 1970s on the assumption that "books and knowledge are essential to people's lives and therefore applying a tax on reading would be unfair and inappropriate."[3] However, EU legislation has stipulated that member states should tax e-publications (which are regarded as a 'service' rather than a 'product') at their standard rate for VAT, which has meant that e-books have been subject to 20% VAT in the UK. Following a consultation on this topic in 2016, the EU decided in 2018 to give member states more flexibility.[4] This prompted an 'Axe the Reading Tax' campaign, led by the Publishers Association and supported by the ALCS, the Professional Publishers Association (formerly the Periodicals Publishers Association), the Society of Authors, the National Literacy Trust, the Book Trust, the Association of Authors' Agents, and the Royal National Institute of Blind People.
The Axe the Reading Tax campaign argued that the 20% penalty on e-books "impacts millions of consumers, including everyone who reads or learns digitally." A letter was delivered to the Chancellor last October, asking for the penalty to be scrapped. The ALCS said: "In an increasingly digital age, e-books and other electronic publication formats have become more popular and more accessible to readers, which is why it's essential that VAT on digital works should be zero-rated to match their printed counterparts. We wholly support the Axe the Reading Tax campaign and urge the Government to take action to tackle this imbalance."[5]
The lobbying of parliament produced a successful outcome in March when the Chancellor announced in his budget statement that e-publications would be VAT exempt from the 1st of December 2020. The move has now been brought forward with the Chancellor's announcement on 30th April that plans to scrap VAT on e-publications would be fast-tracked "and will come into force tomorrow" (the 1st of May). The Chancellor said the move would be a boost to readers and publishers during the pandemic: "We want to make it as easy as possible for people across the UK to get hold of the books they want whilst they are staying at home and saving lives. That is why we have fast tracked plans to scrap VAT on all e-publications, which will make it cheaper for publishers to sell their books, magazines and newspapers." The announcement went on to state that "the move will be a boost both to readers in the form of cheaper e-books and e-newspapers, and the publishing industry who should benefit from a boost in sales."
VAT on e-books has always been a thorny issue for small publishers like ourselves because of the limited resources available to handle the extra admin. We have been developing plans for e-book production for some time but the VAT issue has been a barrier. We therefore welcome the decision to scrap it and are making use of the opportunity to develop our plans further.
More Support for Publishers – Book2Look
Further moves to support publishers have come from Nielsen Book Services who have said "during these unpredictable times it would like to offer all UK and Irish publishers three free Book2Look 'biblets'". On its website, Nielsen says: "Nielsen Book2Look enables you to create mini websites for your titles with 'Look Inside' capabilities and personalised shopping options. It can be customised and shared widely allowing publishers of all sizes to continue to promote and wherever possible sell titles."
Simon Siabod Publishing would like to thank Nielsen for this offer and we are pleased to announce that we've made use of it. Readers can now sample our titles via individual biblets, and you can also access all three of the biblets via a 'bookwall'. If you're tired of hearing about social distancing, self-isolation, lockdowns and face masks, death tolls and job losses, and those endless reminders to stay at home and wash your hands, you may find a welcome distraction here.
To view the bookwall, follow this link (the bookwall will open in a new window): "Simon Siabod Publishing | Book2Look". (Note however that biblets use advanced HTML5 features that aren't supported by older browsers; if you're using an old version of a browser, you may just see a blank page.)
Notes
[1] For a general picture of the psychological impact of the virus on American workers, see the article by Don Rauf on the Everyday Health website.
[2] The Internet Archive has responded to the criticisms levelled at the National Emergency Library with a further blog post.
[3] The quote is from the Axe the Reading Tax website.
[4] The consultation ran from 25/07/2016 to 19/09/2016 and you can find a record of it on the European Commission website.
[5] The text of the letter delivered to the Chancellor can be seen in an earlier news item on the ALCS website.
May 2020
top