Anthony Bloor – The Big Wheel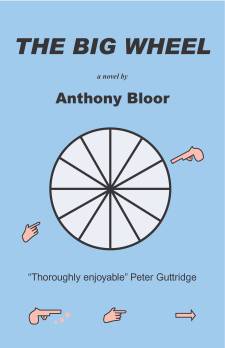 Product Details
EAN/ISBN13: 978 0 9563544 0 2
Format: B-Format Paperback
Extent: 256pp
RRP (UK): £8.99
Published: 2010-05-28
Availability: Limited Edition

Classification: Contemporary Fiction
Readership: Adult General
Language: English
Rights: World

Size: 198 x 129 x 18mm
Weight: 313gm
BIC (version 2): FA
BISAC (2009): FIC 052000

Synopsis
A John Buchan adventure post-modernised, set in the UK.
It's 1999 and the authorities are preparing to celebrate a new year, a new millennium, and The Arrival of Better Things. Meanwhile, somewhere in Wales, Tom Jones listens to the ramblings of a drunken Dai Lewis. Is there any truth in Dai's story of a Welsh sect, who are planning an armed uprising for the night of the big party? And what of his tales of the millennium bug? Is there more to this than the geekish possibility that computer systems will fail to recognise the year 2000?
Tom Jones is persuaded on both counts and he offers a refuge to a man in fear for his life. Then, when Dai Lewis is murdered, Tom is forced to flee for his own safety. Pursued by both police and killers, and leaving behind him a trail of corpses, Tom discovers a conspiracy that's far more sinister than the gist of Dai's story. The government's advisers are implicated in it, no less. But who is going to believe him?
Downloads
To download a leaflet on The Big Wheel, click here (

opens in new window).
More downloads are available from the Trade page.
Comments and Reviews
"A Hitchcockian shocker with a satirical edge for the virtual age; a twisted, knowing version of The Thirty-Nine Steps, relocated to Wales on the eve of millennium madness; and a conspiracy thriller which puts the world we think we live in into the blender. What emerges is a vision that's dementedly, entertainingly all too plausible"
Michael Eaton, screenwriter (Shipman, Shoot to Kill, Why Lockerbie?)
"Thoroughly enjoyable" Peter Guttridge, crime critic for The Observer
"High-quality fiction" Hazel Cushion, Accent Press
"Fluent and intelligent writing" Jon Thurley, literary agent
"Most entertaining" Alan Mahar, Tindal Street Press
Read an Extract
You can read extracts from our books via Nielsen's "biblets". These are hosted by Book2Look (B2L) and licensed to Nielsen Book Services for exclusive distribution in the UK. To read a sample of The Big Wheel, click on this B2L link (opens the biblet in a new window): "The Big Wheel : Anthony Bloor - Book2look". (Please note however that biblets use advanced HTML5 features that aren't supported by older browsers; if you are using an old version of a browser, you may just see a blank page.)
Author Interview
To read Anthony Bloor on The Big Wheel, click here.
Other Novels by Anthony Bloor
Tales of Daphne
Click here to see the product details.
The Messenger
Click here to see the product details.
To read an author interview, click here.
Larry's Lessons
Click here to see the product details.
To read an author interview, click here.
Online Purchase – The Big Wheel
Online price: £6.74 (25% discount)
(Excludes delivery charge)
To place an order online, please use a PayPal button below, making sure you select the correct postal zone for your delivery. Clicking or tapping a PayPal button transfers you to a PayPal screen and the transaction details are transmitted securely and privately via PayPal, not via this web page. Details of delivery charges and postal zones are given on the How to Buy page.

Please note that Terms and Conditions apply to online sales.
Delivery to the UK


Delivery to Europe


Delivery to Rest of World


Check the How to Buy page for details of postal zones.